Okay, I'm a simple girl. Sure, I like me some pretty and sparkly jewels but I'm not Elizabeth Taylor. Geometric shapes and outlines are seen in decor and fashion for a couple seasons now. I'm the type of person who teeters between styles and find myself loving the urban and edgy look but going back to vintage girly girl with a modern twist styles. But what I love about this trend is that it's taking something that usually looks extravagant and makes it modern and simple.
I stumbled across a couple of items that caught my eye that fall within the lines of the geometric outline trend. This a great cushion by graphic designer,
Leonora
, of
Yellow Heart Art
. I'm a big fan of her stuff, so check her out! The diamond cushions are terrific.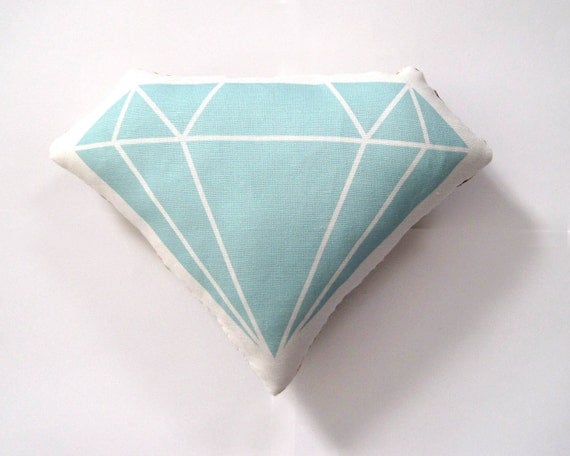 I'd love to have a large one and several mini ones sitting in a little corner of my home, scattered and spilled out on the floor.
I'm really liking these charms by Geometric Land. Even though it's an outline of a diamond, the brass takes the preciousness and prissiness away from it.
The settee and console table designed by American Designer, Darrell Landrum, in the late 40's to 50's has lines that remind me of the geometric setting of a diamond.
Check out the fun and whimsical store decor of
Hansel
, a Singaporean womens wear label and their usuage of paper art:
Of course, if someone were to give me the real thing, I wouldn't reject it. Even it it's the dreaded Marquis/ Pear shaped diamond: