One of the goals of my blog is to highlight small businesses and creative people in Vancouver. I want encourage people to step out of their comfort zone and consciously decorate their homes to reflect who they are.
Every other month I will be doing mini interviews on home dwellers, business owners and artists to learn more about what makes them unique.
March 2012
Front and Company provides an eclectic array of clothing (both consigned and new), housewares, and accessories for the fashionista's discerning eye.
The window displays are the cities most innovative in Vancouver and the interior of the store is a continuation of the theme that creativity and uniqueness is encouraged and fostered at Front and Company.
I had an opportunity to sit down to chat with Sonia and Allie, who shared their vision and how they keep the store fresh and new, the source of their inspiration, and the importance of team work.
Learn more about their inspirational vision:
New Flash - Front and Company
February 2012
To say that I like to shop and that I like vintage clothing is an absolute understatement. I have been consigning at C'est La Vie Consignment Boutique for years and have gotten to know Faustine due to our love of music, vintage clothing, Japanese salons and scootering. So it seemed fitting that we got together to chat more about it so I can share some of the knowledge that this bohemian Parisian has for us.
Learn more about fabulous and affordable style:
Faustine Faure from C'est La Vie Consignment Boutique
November 2011
Ah, social media - how you've open up doors to different places with wonderful people. I met Annika of Social Bites via Twitter and she graciously invited me to a meet up with a bunch of other food loving folks.
She is passionate about gathering with people to enjoy their company and the delicious food and this has manifested into her culinary project, Social Bites.
Check out Annika and Social Bites at the following link:
Annika from Social Bites
October 2011
I just finished posting my interview with Dawn Halladay, co-owner of The Bench Market in Penticton, BC. This is the place to go to increase your credibility as a gourmet foodie as there is an endless selection of spices, rubs, vinaigrettes, and local products to take your dishes from "meh" to "hot damn".
Dawn and her sister, Debbie, speak on the phone at least 5 times day to share ideas to bring to The Bench Market and their customers. The Bench Market not only serves as the premier gourmet centre for Pencticton, it is also a terrific spot to grab a quick bite and a mean cup of coffee.
Check out my interview with Dawn:
The Bench Market
September 2011
Laura aka On the Racks
I'm caught in an interviewing backlog! After two back to back trips to different wine countries (Okanagan Valley in BC and San Francisco) I have lots of fun and material to write about. My trip to San Francisco was terrific and the bloggers from the Bay Area are oh so friendly and happy to drop a line on my teeny, tiny blog. My first feature will be with Laura from
On The Racks.
Check out the interview at the following link:
Style and Substance in SF
Kelly, Owner of Leftovers
I just heard back from Kelly, owner of the renowned consignment store in
San Francisco, Leftovers.
Due to their hectic schedule, I was unable to sit down and chat with them but we were able to coordinate our time together so that I could learn more about Leftovers. Kelly shares her thoughts about consignment, gives us tips on how to start consigning and invites us into her store with her words.
Did I mention that people from San Francisco are awesome???
Learn more about Kelly, Leftovers, and their team at the following link:
Reuse, recycle and re love - Leftovers
June 2011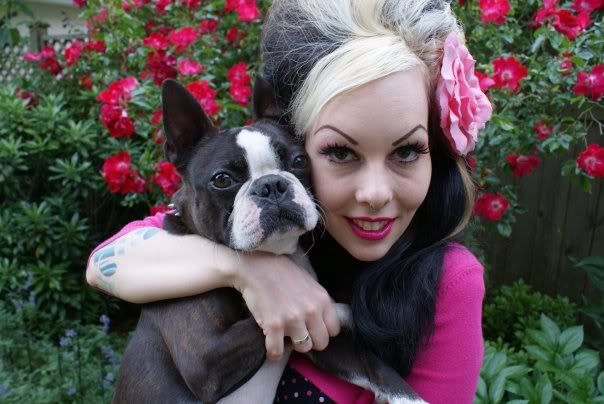 Trish and Bruno
Trish is unabashedly girly - but with a twist. She likes skulls and freaky things but gives them a strong dose of femme to make you take a second look.
In a new chapter in her life, Trish moved into her home with a dog, cat and boyfriend. Even before any of them could blink, she carved out her own little space in the kitchen. Adorned in pink and earmarked with memories, the Pink Diner is a place where your curiosities run free, your lips turn up into a smile, and Bruno or Romeo sneak up to rub against your leg.
For the full interview, visit the link below:
News Flash: Trish's Pink Diner
April 2011
I've been coming to
Filmgo Sales Ltd
. for the past couple of years and have bought some of my most memorable pieces. Specializing in new and used furniture, antiques, film props, jewelry and art.
I chatted with Roselle and Fabulous Neil about trends, the drivers of some of those trends and the history of some the pieces in their showroom.






For the full interview, visit the link below: