The Ikea kitchen organizers have been the go to space saving solution for years. If there was a fan club, I'd be the president. What I love about the systems is that you can configure it the way that suits your needs and can be used just about anywhere. You can mix and match the systems and they are relatively easy to install. I've seen people use them as planters (the asker and the gruntal systems), as lid holders, in the kitchen, in the office, as shoe organizers - the lists are endless. Here's how the Ikea kitchen organizers have helped me:
Kitchen
I lamented at the
beginning of the month
that my kitchen was looking blah. In addition to the blah-ness, I was running out of room in my cupboards and needed a solution fast. I had already installed a wall organizer of bygel shelves and rails and I was pretty pleased with the way that it turned out: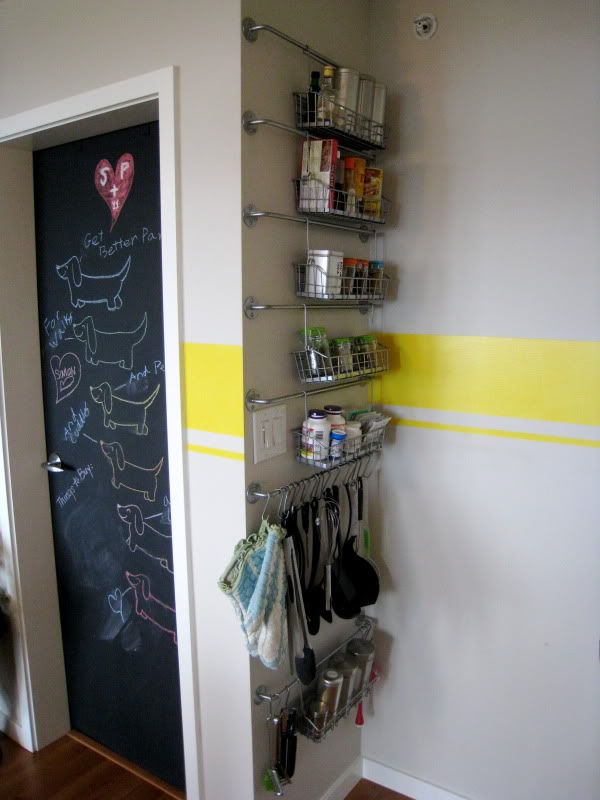 Here's what I used:
| | | |
| --- | --- | --- |
| Grundtal S-Hooks (medium) x 3 | Bygel Wire Basket x 6 | Bygel Rail (55 cm) x 7 |
I had never drilled holes into tile before so I was a bit nervous. But I found this
ehow link
that helped me out a great deal. Also, it was the first installation project I did without the help of my boyfriend. I also bought this kit to ensure that I didn't mess up my tiles:
What you'll need:
Appropriate screws (ask the hardware personnel to find the right one for you)
Diamond Drill Bits
Electrical Drill
Gloves
Safety Goggles
Exact-o Knife
Masking Tape
It took a while to get my hands steady and there were times when the drill bit would "skate away". I found it really helped to put tape on the spot where you want to make a hole and, using an exact o knife, mark an x so that the drill bit will stay in place:
It gets pretty messy and I felt like I was using a jack hammer (which freaked me out a bit) - but here's the finished product: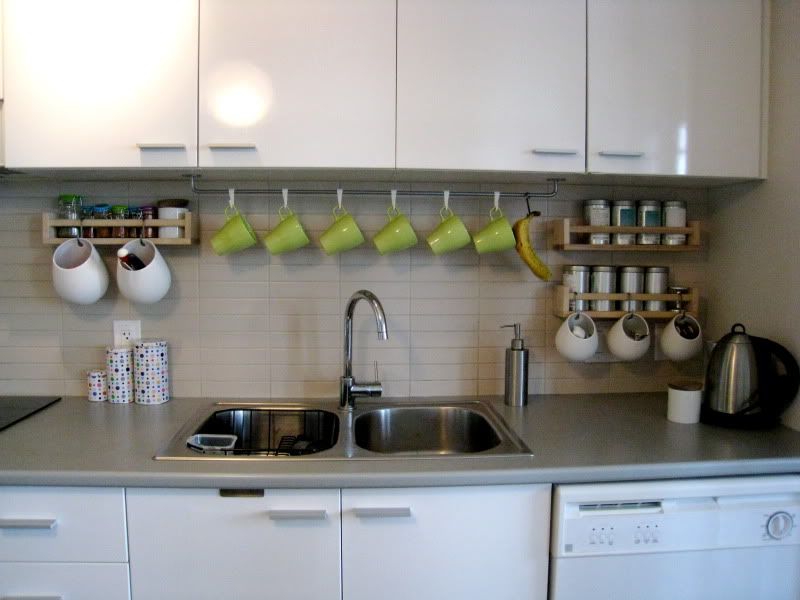 These are the products that I used:
| | | |
| --- | --- | --- |
| Bekvam Spice Rack x 3 | Asker Containers (2 large and 3 small) | Bygel S-Hooks x 1 pack |
| | |
| --- | --- |
| Grundtal S-Hooks (large) x 2 packs | Bygel Rail (100 cm) x 1 |
The Sewing Room and Office:
The Ikea wall organizers are also popular in the office. Here's what I did: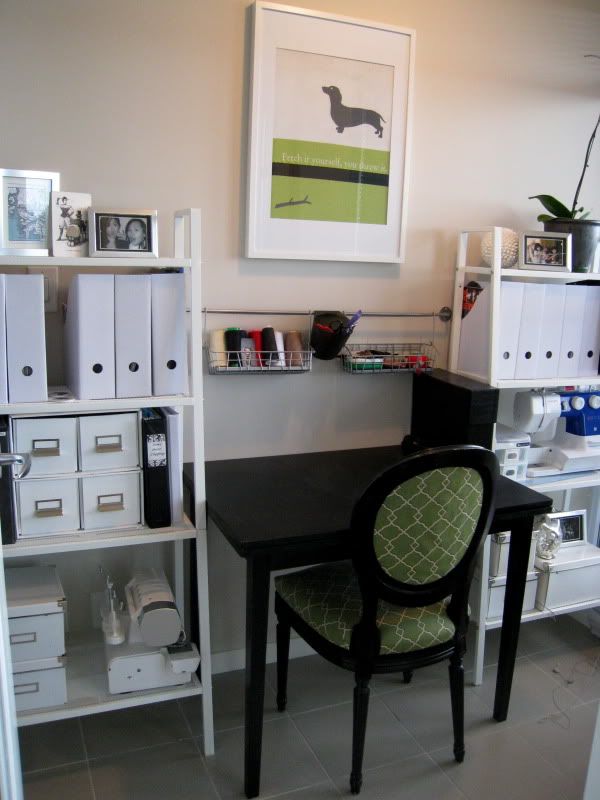 I used:
| | | |
| --- | --- | --- |
| Bygel Basket x 1 | Bygel Rail (100 cm) | Bygel Basket x 1 |
At this point, I just couldn't stop.
As Planters:
I've seen lots of postings from people who have used the Asker containers as planters.
Time to bring out that electrical drill and get working, again. Here's what I did (okay, I lied - my boyfriend did this):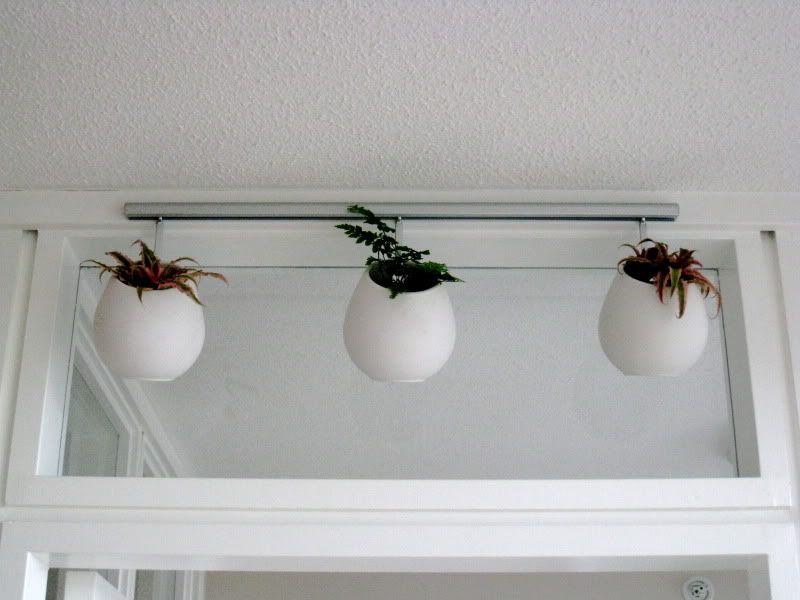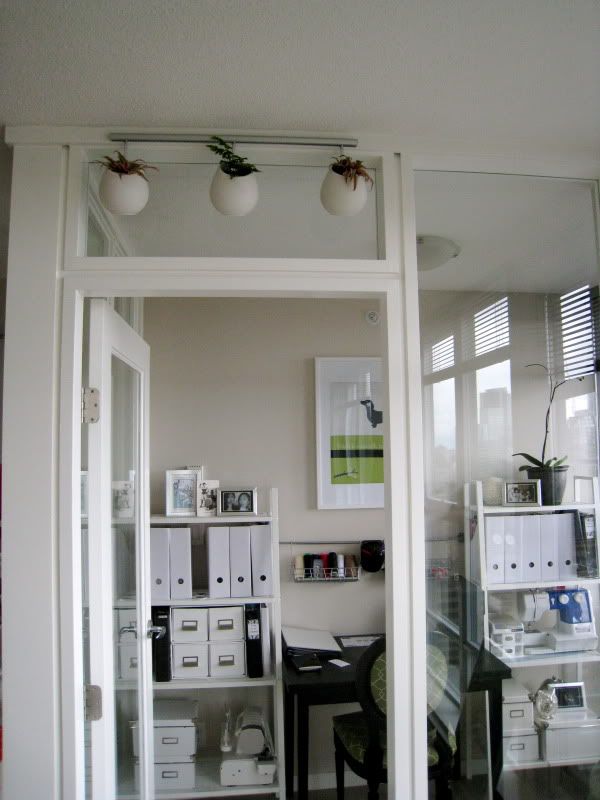 I chose succulents and a mini fern because they are low maintenance. It doesn't look like it in the picture because it's raining today, but this spot gets lots of sunlight. Previously, I had put some plants in my Asker containers in my kitchen but there wasn't enough sun (my boyfriend says "I told you so") and they started to look withered.
I used:
So there you have it - the story of how Mr. Asker, Mrs. Bygel, and Ms. Grundtal prettied up my home.
Thanks, Pals!