I had been going back and forth about either buying a headboard or making one to go with my queen sized bed. No matter how many times I looked at my room, it always seemed incomplete.
I know that some people would prefer this cleaner look but I wanted it to look a bit more lux. I had thought about buying a headboard but the ones that I liked were just way out of my price range but I also wasn't able to find a DIY design that I liked.
That is, until I read the instructions on
Young House Love
. I did have a couple of concerns:
Since this headboard did not have a solid support in the center, how sturdy was the design?
Most of the comments suggested that design would not work well with tufting.
How would you mount the thing?
But questions aside, I embarked on this mission to make myself a headboard using the Young House Love's design and added a couple tweaks here and there. I was able to make this headboard in about 3 hours (1 hour if it weren't for the tufting) and less than $100.
What I bought (see below for pictures):
2.5 meters of fabric. I chose a cotton velvet-like fabric with a matte finish. It's the same type of fabric that I used for the slip cover on my sofa bed. I prefer 100% cotton over micro suede because you won't get static electricity. While micro suede is easier to clean, a fabric protector will provide the protection that you'll need for the cotton fabric.
1 meter of scrap fabric
54" X 42" canvas stretchers (you can buy these at the local art store like Michael's)
Staple gun
Scissors
Rubber mallet
Buttons
Upholstery grade thread
Quilting Needle
Batting, about 3-4 meters
| | | |
| --- | --- | --- |
| Extra fabric | Buttons for the tufted detail | Cotton "velvet" fabric |
| | | |
| --- | --- | --- |
| My staple gun aka "sharp shooter" | Cotton Batting | Polyester Batting |
Step one - the frame
Frame stretchers come in separate pieces so you can pick and choose what size works best for you. Each piece slides into the other to create a frame. The problem is that it's a bit wobbly because you don't have a center bar to keep it all sturdy so I used a rubber mallet to make sure the corners fit nice and tight.
Canvas Stretchers (separated)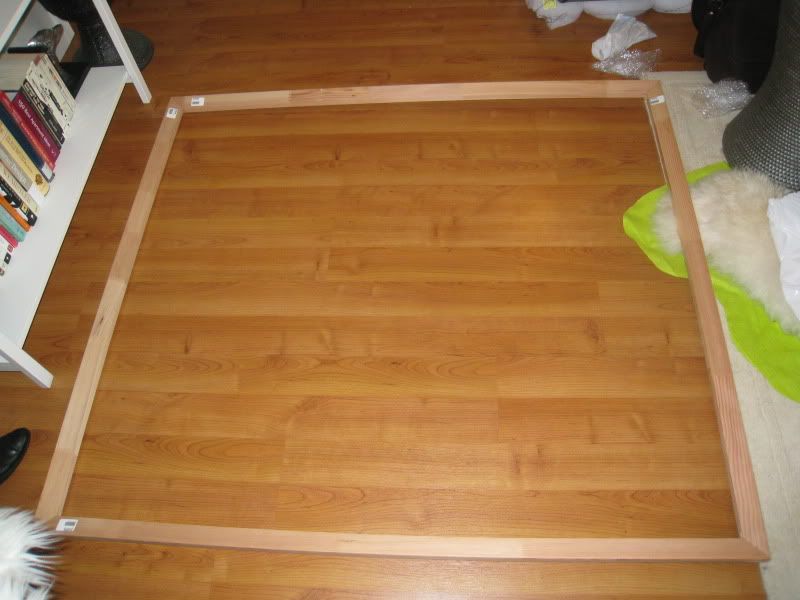 Canvas Stretchers (Assembled)
Step two - create a foundation
One of my concerns was that the headboard would not be sturdy enough since it was hollow in the center. I had contemplated on just buying a blank canvas to upholster but then felt that the canvas would be too stiff to create the tufted look. So, I took strips of rem anent fabric and created a grid like weave.
Step three - the batting
I chose two types of batting. For the first layer, I used polyester because it's thicker and sturdier. For the second layer, I used organic cotton because I liked the feel of it. Leave about 2-3 inches of batting when you're tracing the shape of the frame so you'll have enough material to staple against the back of the frame. To prevent bulkiness, I cut the corners: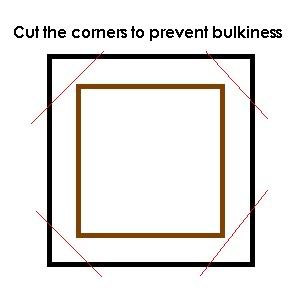 This is what it looked like once the batting was attached with my staple gun: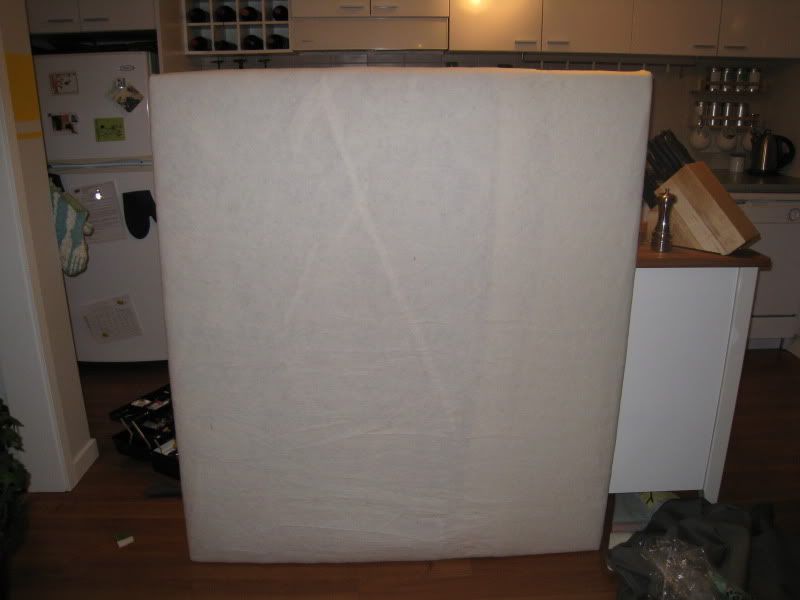 Step four - Add the fabric
Follow the same steps from step three to attach the fabric. Make sure that you pull evenly or else it will pucker and pull.
Step five - Add the buttons for tufting
If it wasn't for this last step, I would have been finished in an hour. This part added about 2 hours to my project and I still didn't get the affect that I had hoped for.
When adding a tufting effect without the use of a drill and particle board headboard (see
Charissa's Tutorial
posted on Apartment Therapy), I used the same technique that I did when I tufted some pillows. Here's an easy to follow tutorial from
Burdastyle
.
Instead of choosing two fabric/ leather covered buttons, I chose to use a standard button at the back just because it was easier for me to see what I was doing. You will certainly need a quilting needle because these are longer and thicker than your standard needle. I used a level to measure where I should put the buttons. This ensured that they were not only evenly spaced but also in straight line. I had to pull the thread pretty hard, so it is beneficial to loop your thread through the needle twice. This is what I ended up with: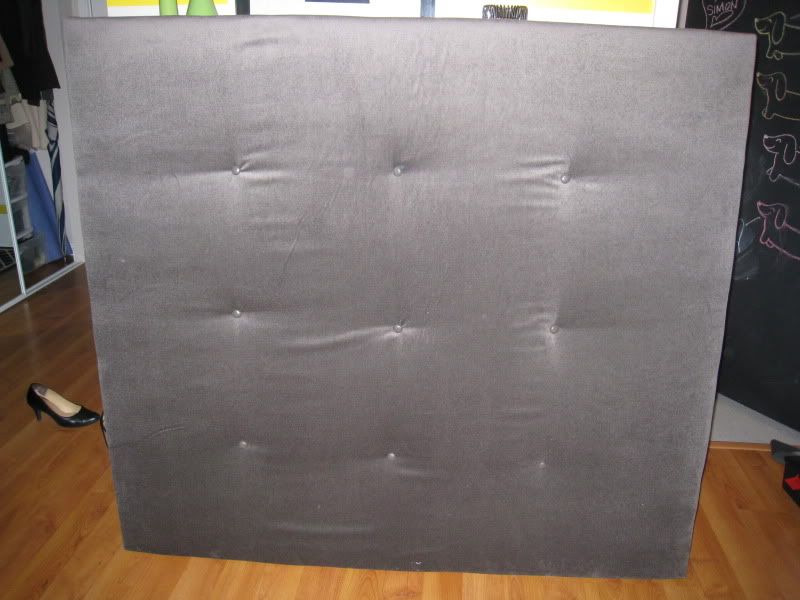 I was so excited to start this project that I literally kicked off my shoes and ran to my tool box.
Step six - mounting the headboard
I did buy a frame mounting set but realized I didn't need it. I have the
Ikea Engan
bed
but in order to have storage boxes at the bottom my bed I had to set my mattress rather high. This, however, turned out to be beneficial. Since there was already a 1.5 inch gap between the head of the bed and the wall, I simply wedged the headboard in that space. It's snug as bug.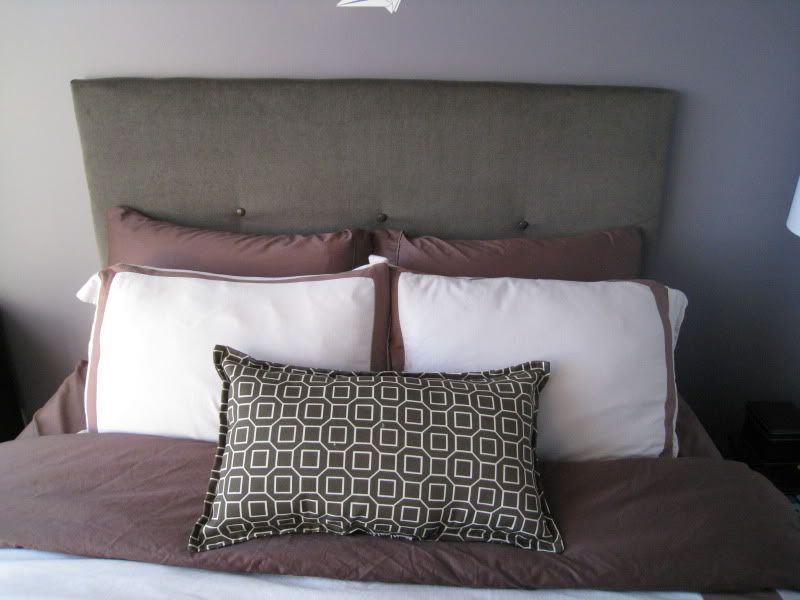 What I would have done differently:
To create a more tufted look, I would have cut the fabric into little squares and sewed them back together to create some seams. Yes, this would have added a great deal of time to the project but it might have helped accentuate the tuft detailing.
In addition to this change, I would have also wrapped batting around the entire frame. That way, when putting the buttons through the headboard, there would have been more fabric to pull on. The tension might create a more defined tufting look, like the pillows.
So what do you think? Should I have added more buttons? Have you successfully made a headboard with tuft details without using a drill and particle board? I'd love to see pictures of all your projects!