Trish is one of those fabulous persons that you meet where:
a) You want to know how she walks or even dances in 6" heels
b) You'd like to know how she is able to get her hair looking right even when it's 40 degrees in the club
c) You're very curious about her dwellings and if her home is as fabulous as her outfits.
I could write a whole post on a) and b) but I've decided to share with you my conversation with Trish as she reminisces about the Pink Palace and talks to me about her pink kitchen in the new home that she shares with her boyfriend, an ever curious Boston Terrier named Bruno (the destroyer) and the wise ol' cat, Romeo.
| | |
| --- | --- |
| Trish and Bruno "The Destroyer" | The handsome little guy |
The first time I went to their home I walked into the living area and saw the flash of pink coming from the kitchen. Oh... so pretty, so fun... so Trish. Her previous home was the birth place of the Pink and Drinks and other fun themed gatherings; it is fondly remembered as the Pink Palace.
| | |
| --- | --- |
| The lovely hostess at one of her theme parties | The best decorations are the simplest ones |
Saying "Goodbye!" to the Pink Palace
The decor in her current kitchen is a carefully curated gallery of memories and oddities, all which conjure up the several legends that her and her friends share.
How would you describe your kitchen?
Retro Barbie meets June Cleaver. It's similar to my old kitchen. I moved into this place first and Isaac (her boyfriend) didn't really have a choice on what it would look like. When I told him I was going to paint it all pink his response was "What???!!!" I could give him any of the other rooms but I'm taking this one. Besides, he doesn't cook. But the pink doesn't bother him; he's very comfortable with himself. He thinks the kitchen is very "me".
Tell me the history on how the colour pink has popped into your life?
It's funny because when I was a kid I had a hot pink room and I hated it. We moved into the place and it was like that when we got there. I wasn't allowed to paint over it. So I just put posters all over the room to cover up as much as I could. I guess it's because I was such a tom boy back then.
What do you think the colour pink says about you or your design esthetic?
Well, in the late 90's and early 2000 pink really took on a different meaning for me. It was being used in alternative styles - like, pink skulls on clothing. It was kind of edgy, fem and freaky - which I thought was kind of cool. I saw this black hoodie with pink skulls and thought - I like it.
So you recently moved in with your boyfriend. What were some of the challenges with combining household items in this kitchen?
This kitchen is pretty much mine - since I had a lot more kitchen stuff than he did. We had lots of stuff and we gave a lot of it away, threw a bunch of stuff away and some stuff is in storage.
What is your favourite part of your kitchen?
All the decor, the hoo-has, the knick knacks - they make it all personal. Some of them are gifts - like the "Sexy Bitch" light, which is from Isaac's mom and sister. It was a gift for Christmas and I thought it was hilarious.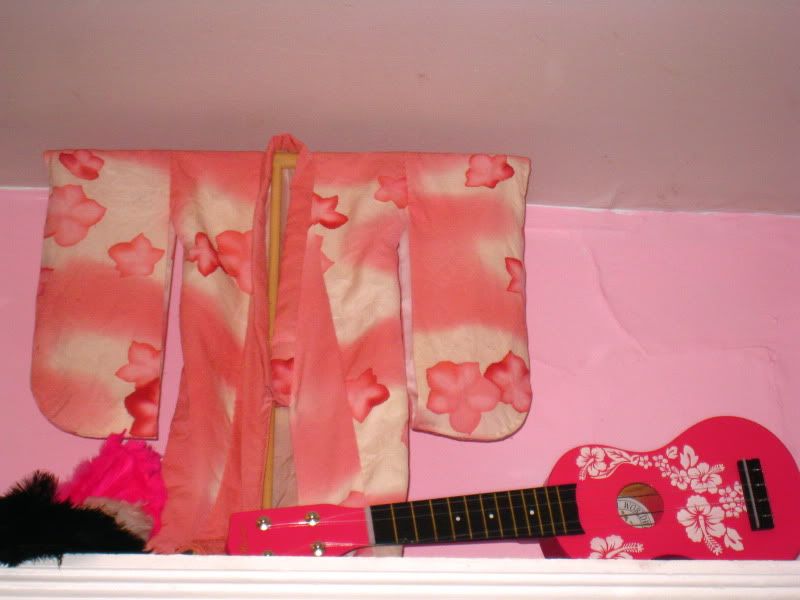 The pink Kimono is from Isaac's uncle. He's a musician and fan of his, who is from Japan, would always drop off gifts to him because she loved his music so much. He had no room for it and asked us if I wanted it. I said "Sure!?"
The ukulele is from our first trip together in Hawaii. There have been many more trips after that and I have little things from each of them, like the maracas, which are from Costa Rica.
What I love about Trish's kitchen is how much "life" is on the shelves, in the cupboards and on the fridge. The room is unapologetic in how girly and fun it is - just like Trish.