"Huh? I chugged mine. I need some water. I'm thirsty".
Song on my mind when I think about our visit:
After
Sleepy Giant
, our wine charriot took us to
Dirty Laundry Vineyard
. Amy had been there last year and was just in love with the estate - it was at the top of the list for most of the crew. As soon as we pulled into the lot I knew that we arrived at a special place.
The patio at Dirty Laundry Vineyard
The gorgeous view of Summerland and the Okanagan lake
Even though I favour the taste of reds, I found that I was a huge fan of the Rose - Hush. It was light and sweet and had lovely hints of strawberry.
Dirty Laundry
has done a terrific job with branding. What was really impressive about Dirty Laundry was that they took a theme and made wine fun. They recognized the power of branding, kept it consistent, light hearted, simple and cheeky. Dirty Laundry understand that people have fun while drinking wine and they are certainly tapping into the female market.
Photo courtesy of Stefanie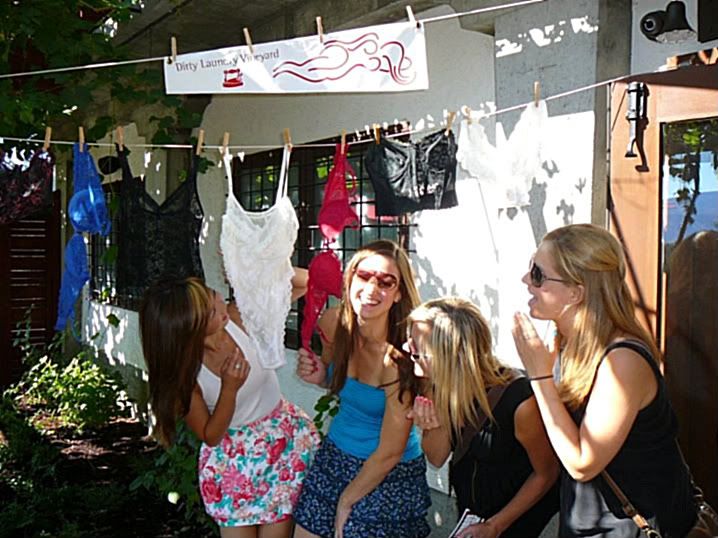 Leave your bra behind and get 10% off your purchase. We all left WITH our undergarments.
Photo Courtesy of Stefanie
The Dirty Laundry Story:
In the late 1800's, gold miners flocked to the province of British Columbia to take advantage of the wealth of previous metal found in the lakes of the province. Chinese workers were used as cheap labour to do the most dangerous work in the most heinous conditions. One of these workers, known only by the name "Sam" decided that this life was not for him and fled to the shores of Summerland and set up shop in the fruitful valley.
He set up a
chinese laundry
, which were already popular in the mining cities in British Columbia and California. Unsatisfied with his success, he found other ways to diversify his business portfolio and transformed his second floor into a brothel and a gambling den. It is this tale that the people of Dirty Laundry share with their visitors. Like Disney, they put a great deal of energy into creating the circle of magic by providing a special experience for their guests.
Apparently, I haven't gotten the memo that the 1800's has long past!


You may also be interested in: