"More cheese... more wine!"
After escaping the crowd at Mission Hill Family Estate, we decided to head down the hill to Quails Gate Okanagan Valley Winery. This winery differs from Mission Hill in the way that the estate is warmer and lush with trees.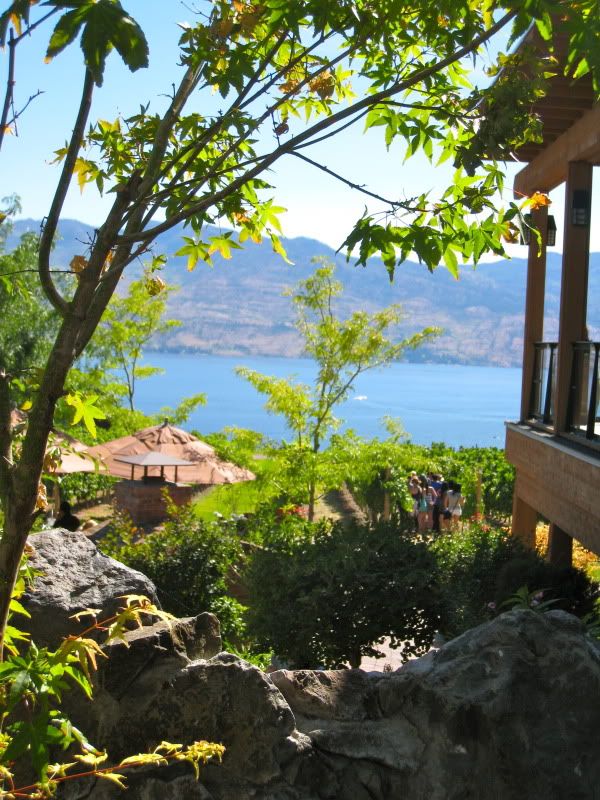 While Mission Hill Family Estate uses stone and clay-like surfaces, Quails Gate Winery uses warmer tones and materials. The use of wood and building on different levels give the estate a more welcoming feel. It's breaktaking, yet quaint - more like vineyard rather than an estate.
Our initial experience was not good. We made the decision to sit on the patio in the restaurant and we were given a lovely table in the sun. However, after taking a couple of pictures and taking a couple sips of water and making a decision on what to order, we were told that we had to be moved so that they could make room for a larger party. Rather than move to a shaded table with a poor view of the vineyard we decided to leave - and I was steamed. I was determined to march back and give the maitre d' a piece of my mind but Katie and Stefanie suggested that we just enjoy ourselves and do some wine tasting.
Girls Who Wine on the patio before being told we had to move.
Thankfully, the sommelier was a terrific host and certainly saved the day. He was patient, personable, friendly, and sympathetic. As a result of his hospitality, we each bought at least one bottle of wine, bought some cheeze and crackers, and had our own little party on the show room patio. Though reserved for private wine tasting, the sommelier invited us to make ourselves at home.
Look at all those empty glasses!
Not one for restraint, we enjoyed our wine so much that it left us giggling like teenage girls. We were waving at random strangers enjoying the tour of the vineyard and documenting all our antics using our various social media tools.
In addition to the wines that we had tasted, earlier, we polished off a bottle the 2009 Pinot Noir and a terrific bottle of the 2010 Chasselas-Pinot Blanc-Pinot Gris. I really enjoyed the later. It was a lovely blend of three wines and had such strong pear-like flavour. It went so well with the goat brie. I was craving toasted walnuts, endive and dried apricots to accompany this wine.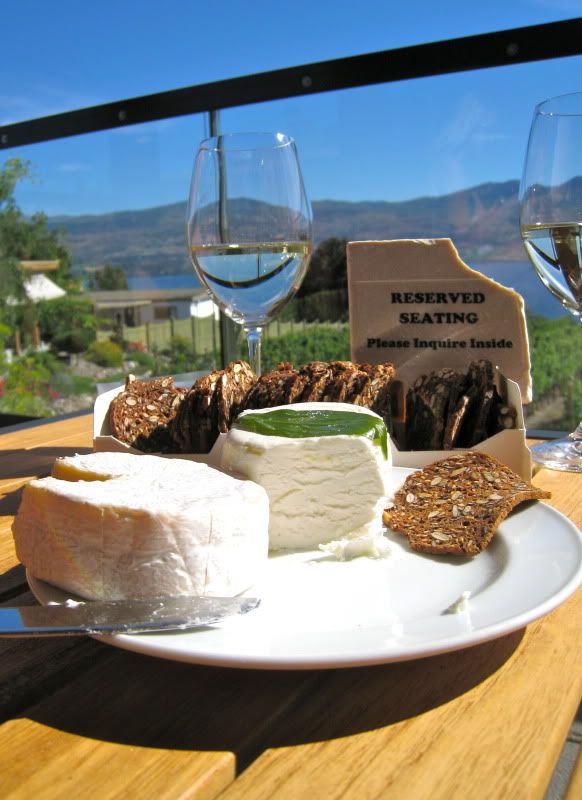 Turn the clock forward one hour and we've bought more cheese and Amy has bought a bottle of ice wine, which we drank out of chocolate cups. Girls Who Wine finally decided to stumble out of Quails Gate, with stares following all of us - but we were grinning and walking less than gracefully away from a visit that left us in a giddy state.
You may also be interested in: