I had to make room for a new bbq. It is not unlike me to garden at night. I've had some continued failures:
-Lettuce (I should have re-planted new ones. They started looking pretty sad.
-Lobelia (I continue to have problems with them. They just seem to shrivel up and die or get a bit out of control and then die. What gives!)
-Verbena (Aphids love the heck out of these guys and it was causing too much trouble to the neighboring plants. Out you go)
-Purple Petunia (I had to get rid of it. It had shriveled up and I suspect that the container had gotten too small for its root system)
But enough about the failures... I'm very proud of how it's come along. There were certainly challenges this year. The cold and wet weather stunted the growth of my tomatoes and peppers but they are coming along and if the weather sticks around for 6-8 weeks I'll have lovely Romas and Italian sweet red peppers. I already have some cherry tomatoes and jalapeno peppers.
The basil and anise plants have done well, and this is impressive considering how terrible our weather was in June and July. This is the first year I've planted petunias and begonias and I've been very pleased. I will try some fancier ones next year.
If you have any advice on how to successful care for Lobelias, please drop my a line!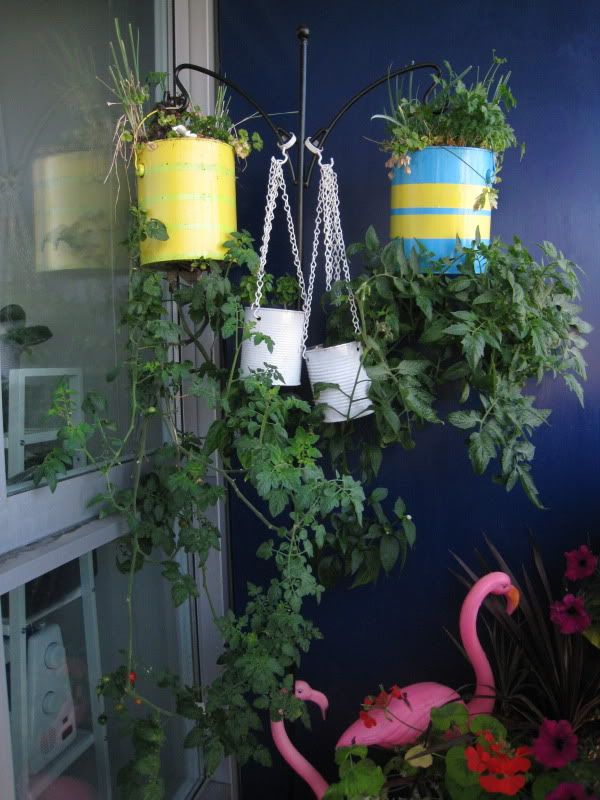 Upside Tomato planters - The cherry tomato plant is a bit leggy. I should have pinched the tops. The Romas are finally growing as are the Italian sweet red peppers. more sun, please!!!!!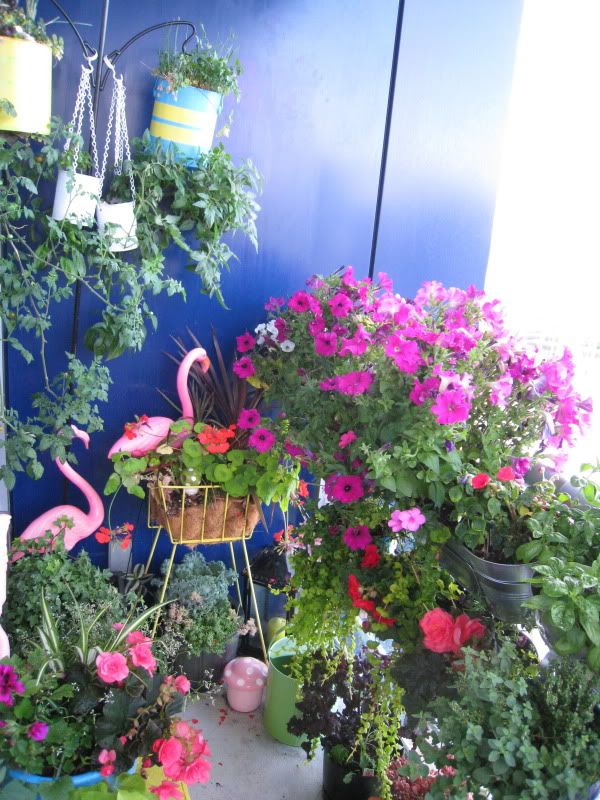 My sister joked that my patio will fall apart due to the weight of vegetation. I have trouble getting around when I water the plants. There could be worse things - like an Aphid infestation.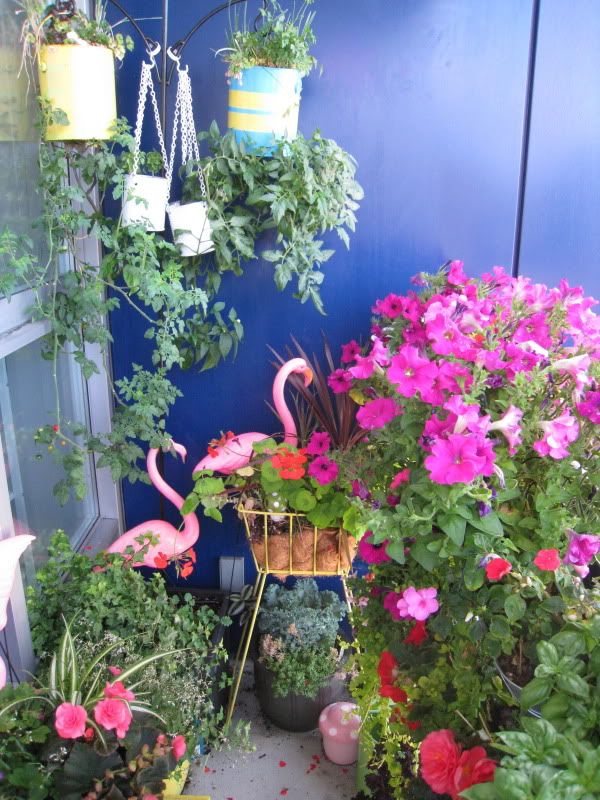 Petunias and begonias rock.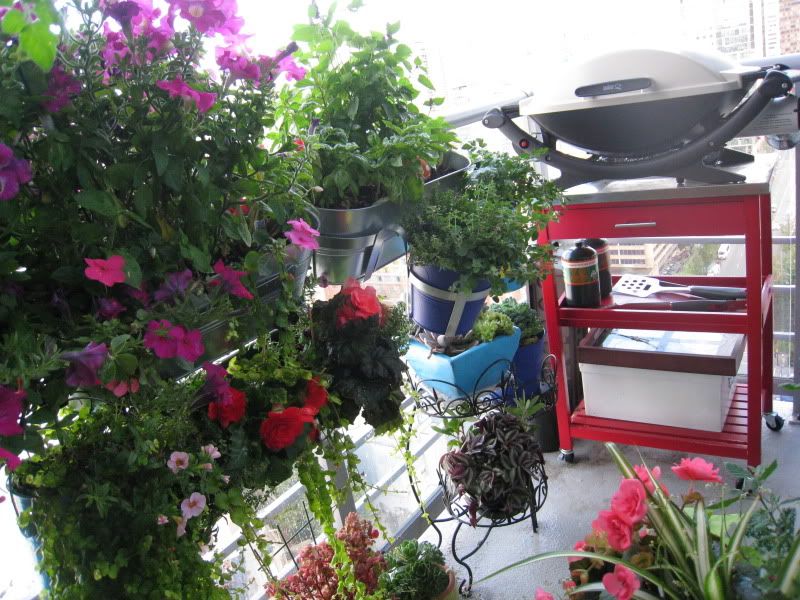 Everybody, meet my BBQ. The Weber Q200 - it's terrific.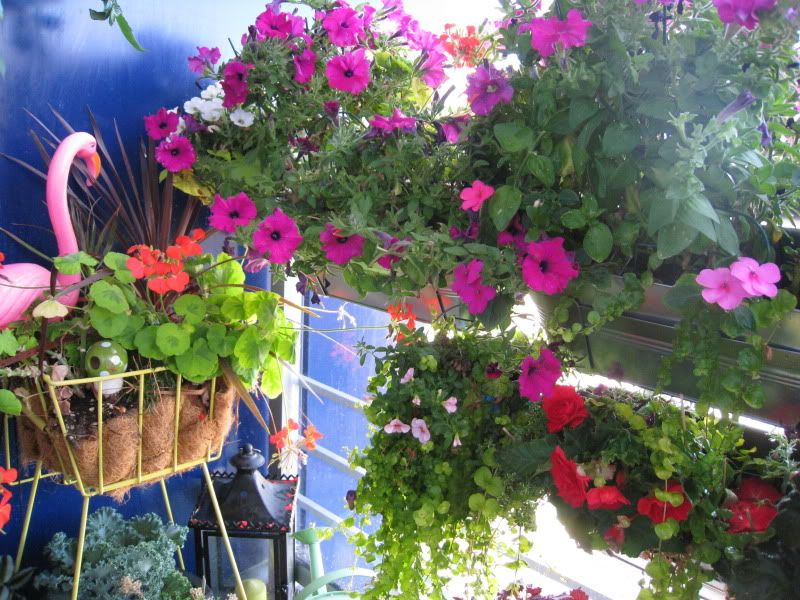 Most of the petunia flowers are on the other side basking in the warm sun.
Mesclun and kale. The Mesclun are a very needy bunch for water.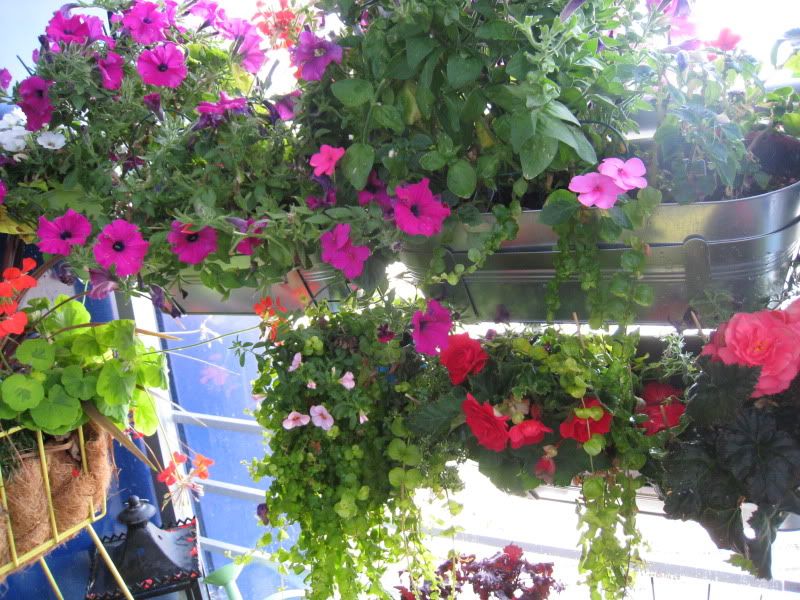 The Hanging Gardens of Pam
To see all the rest of the photos, please visit the album page.